Too often we ask kids to create a story or a picture, and we hear: "I'm just not creative." Actually, too often I hear teachers utter those same words.
Deep down, we know that everyone possesses creativity, yet this quality seems so elusive. Some kids do just seem to jump into creative tasks while others flounder.
Can we teach students to be creative? Can we practice it as a skill? How can we help kids become confident in their creativity.
The Torrance Tests
The Torrance Tests of Creativity Thinking were developed by Ellis Paul Torrance to test levels of creativity.
What's interesting is how Torrance deconstructed creativity into measurable dimensions. I think three of these dimensions are quite useful for developing quick "creativity practices" in the classroom:
Fluency: how many ideas can a student generate
Elaboration: how detailed are the ideas
Originality: how many of the ideas are unusual or uncommon
Practice
Armed with three measurable dimensions of creativity, it's easy to build creativity exercises into the day.
Naturally, these aren't exams, contests, or graded assignments. They're exercises designed to build our students' confidence in their creativity and help reverse the "one-right answer" mentality many of our students have developed.
Vocabulary Games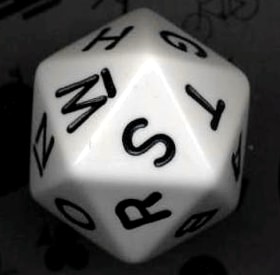 This idea is based on Scattergories. Pick a starting letter (the game comes with an awesome letter dice), then pick a category. For example, the letter "C" and "fruits and vegetables." Students brainstorm items that fit the requirements.
Let's look at how to use this idea to practice each the three dimensions of creativity:
Fluency
Give students thirty seconds to brainstorm and count up how many ideas they created.
Ask students to share examples they were uncertain about. Maybe someone wrote cauliflower but was uncertain if it's really a vegetable. Encourage students to share these in partners, groups, or whole group depending on their courage.
Your own reaction to their uncertainty will help establish whether your classroom truly values creativity. Aim to help gifted students become comfortable with taking risks and standing strong during moments of uncertainty.
Originality
To measure originality, count the "unusual" answers students generated.
"Carrot" would probably be common, but I bet very few students would list "celtuce." This would count as a unique answer.
To find these unique answers, whip around and ask students to share their "most unusual idea." It helps to have a web browser open to verify these unusual answers!
Elaboration
Have students pick one response and generate as detailed a paragraph as possible in a minute. Perhaps a student picks "cress" and develops an elaborate story. Encourage students to go deep into details despite their limited time.
A Drawing Game
In 5th grade, my class played a drawing game based around squiggles on a chalkboard. A lucky student carefully drew three identical squiggles on the board and then stood outside while three new students went up and added on to the squiggles.
When time was up, there were three remarkably different drawings on the board.
The original squiggle-drawer came back in and, after careful consideration, selected her favorite adaptation of the original squiggle. The creator of the winning drawing then got to make the next set of squiggles.
Let's adapt this game as a creativity exercise. Individual whiteboards would be great to keep everyone involved.
Fluency: Everyone gets the same squiggle and generates as many ideas as possible.
Originality: Students aim for the most unusual drawing using the same squiggle.
Elaboration: Students cram as much detail as possible into a single adaptation of the squiggle.
There's a reason I vividly remember this game: it's a blast and, if we aim it carefully, it's prefect for building students' confidence in their creativity.
Alternative Uses Task
The alternative uses task is hilarious. Students think up unusual uses of common items. Given "chair," start a timer and ask students to create as many "alternative uses" as possible. A chair could be used as a:
It's simple to adapt this task to practice fluency, elaboration, and originality.
Fit It In!
There are many more ideas listed here. Try them out and see which ones work best with three dozen kiddos. Each idea could be done as a five minute warm-up or a closing activity.
Over time, build a classroom culture that values original thinking and risk-taking and help students develop confidence in their creativity.
Have other creativity-building exercises? Used the Torrance Tests? Drop me a line at ian@byrdseed.com or @IanAByrd.
Differentiation information in your inbox.
I'll send you one or two emails a month to help you better understand and differentiate for gifted students. Get free resources now!