When you're planning a task for a wide range of students, the terms "floor" and "ceiling" are easy mental shortcuts to increase the range of success for all kids.
* I believe the "high ceiling, low floor" phrase comes from Jo Boaler, but I heard about it via Dan Meyer.
The Floor
The floor tells us how easy it is to get going with the task. A low floor means it's easy for everyone to get on board.
Tic-Tac-Toe is an example of a game with a low floor. It's easy to understand and even the youngest of kids can start playing pretty quickly. A low floor is inviting.
Chess has a high floor – evidenced by how many college-educated adults I've met who cannot play. Chess's floor appears so high that they just never got going. A high floor is a barrier.
We want tasks with low floors so many students can get started easily.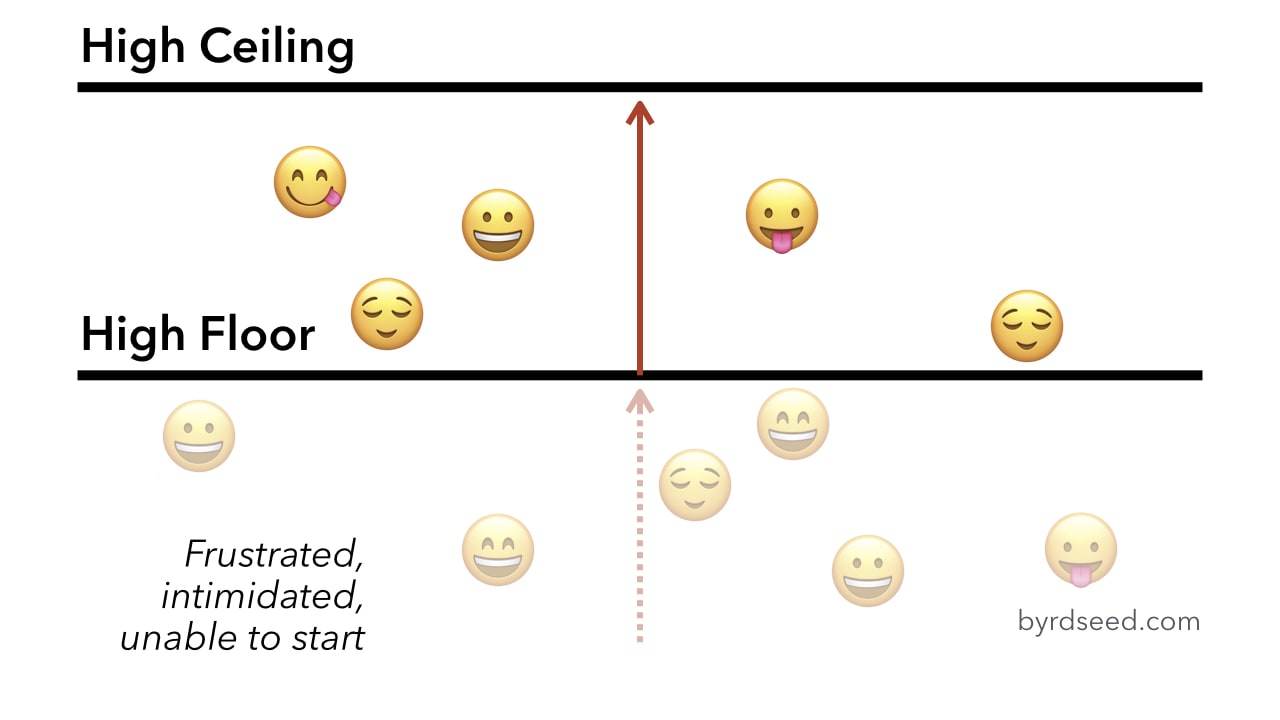 If the floor's too high, some kids can't get started. They get frustrated.
The Ceiling
The ceiling is the potential room for a task to grow. If it strikes a fancy for a particular student, how far can a kid go before they hit the ceiling?
Tic-Tac-Toe has a very low ceiling. It's too easy to master. Play anyone with even a basic level of skill and you'll end up with a tie. Tic-Tac-Toe has a low floor and a low ceiling — the board game equivalent of a worksheet.
Chess has a very high ceiling. You could play for a lifetime and still learn more. With its high floor and high ceiling, Chess is rewarding, but only for the most determined of board gamers.
We want a high ceiling – it gives students room to explore an idea before getting bored.
Lowering Floors
Here's where we come in. A skilled teacher can lower the floor of any task. We do this all the time through modeling, guided practice, scaffolding, feedback, and proximity.
To lower the floor for chess:
Model: you'd show how each piece moves – not just verbally explain it. You'd play a few sample turns. You'd give students a chance to watch the magic happen.
Guided Practice: you'd give kids a chance to practice with each other and with your input. Don't jump right into a full game, practice a couple moves with a partner.
Scaffold: you'd try to reduce the complexity early. Start with simple examples. In the case of chess, there's no reason you can't play with just a king, a queen, and a couple of pawns on a smaller board. Then, once the student "gets it," bring in the rook. Build towards the full game.
Proximity and Feedback: if you give kids a chess board and then go sit at your desk, they'll get confused, frustrated, and give up. When you stay close to correct mistakes, give advice, and gently guide the players, the chances for success increase.
A highly complex game like chess can be scaffolded so that any learner can begin playing. Then we can raise the complexity until they're eventually playing the full game.
This is also true for complex tasks in the classroom.
Low Floor, High Ceiling
It should be our goal to develop tasks that all students can get started with, but that also scale up for students who are ready for more. This is the easiest way to create a task that can work for everyone.
My friend Lisa has a fantastic piece of differentiation advice:
Plan for your highest-ability students first, then figure out how to onboard your other learners.
Why? Because it's really hard to increase the ceiling on a worksheet. It's much easier to lower the floor on, say, a research project. You can always scaffold down – but you can't always raise the ceiling.
"More" Doesn't Cut It
No matter how many times you play Tic-Tac-Toe, it doesn't raise the ceiling. It doesn't get more interesting, it doesn't increase the strategy. In fact, it's some form of hell to be forced to play Tic-Tac-Toe over and over after you've already mastered it!
More math problems won't raise the ceiling nor will another worksheet. Writing vocabulary words ten times isn't any more complex than writing them one time. It's just more.
Aiming for a low floor and high ceiling supports all students. Plus, it gives even low-performing kids a chance to go somewhere interesting. You'll never know who will take advantage of that high ceiling.
When we offer a high ceiling to all of our students, we open the door for unexpected students to go further than we might have expected. Just as Steph Curry's incredible three-point shooting made it possible for the entire league to get better at shooting threes, aiming high for our gifted students can benefit their classmates.
Differentiation information in your inbox.
I'll send you one or two emails a month to help you better understand and differentiate for gifted students.
Get free resources now!