If you ask a teacher to list their top three complaints about teaching, I'm certain that "grading" will be on just about everyone's list. I know that I absolutely despised all of the weekends lost to grading essays, tests, quizzes, projects, and so on.
But, the thing is, I never stopped to ask myself: do I actually need to do all of this grading?
My students didn't really pay attention to the feedback I wrote out. They didn't learn from all of my grading. Students would repeat the same mistakes all year long. (Gosh, they probably made many of the same mistakes the year before, too!)
Why was my default decision to grade everything?
Rather Than Grading, Chatting
Rather than grading an essay or project, I started to just pull students aside individually and have them explain what they had made. It took mere minutes. I'd ask something like:
What was the hardest part?
What part are you most proud of?
What did you learn?
What do you want to work on the next time?
I'd issue a judgement like, "Dang, that's so cool. Can't wait to read the whole thing." or "You know, I think you could have done better." (That was usually followed by the student admitting, "Yeah, I know."). I'd offer, "Want to work on it for one more day?"
These one-on-one moments were probably the most powerful thing I did in terms of feedback. It moved students' mindset away from worrying about points to thinking about what they had actually made. I wish I had started it earlier in my career! 
Now, we still had our unit tests and quizzes and all of that stuff that I had to grade. But I learned that the day-to-day tasks were much better handled as quick conversations.
Plus it helped me make sure to actually talk to all of my students!
What All That Grading Does To Students
Let's look at the other side: how does grading affect our kids?
As a student, I became obsessed with maximizing my grades. The longer I was in school, the less I cared about learning and the more I cared about gaming the grading system. Can I squeeze out 5 points here? Can I re-take that and get the 7 points I need to bump up to an A-?
Heck, there's research going back nearly a hundred years that warns us of the dangers of focusing on grades.
Here is an actual photo of me in high school: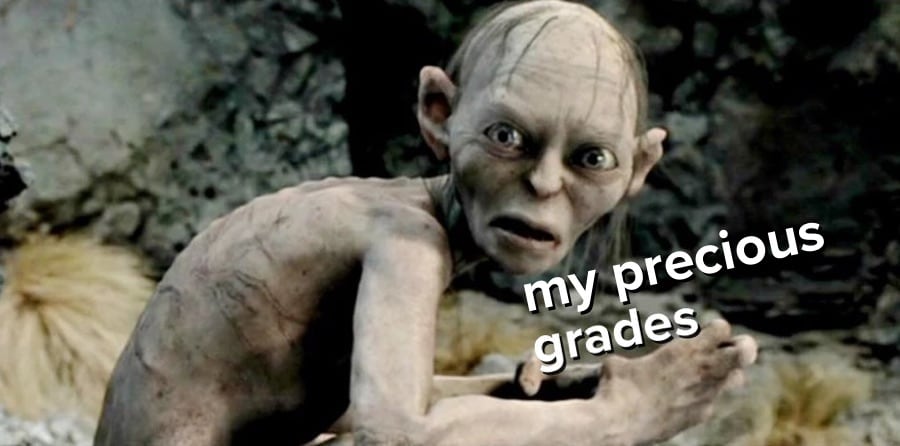 Now, that's me at school. A hobgoblin obsessed with maximizing my precious points. Grading did that to me.
But, at home, I was a entirely different. I was a curious, interested human. I taught myself to play guitar, learned to program games on my computer, and wrote and filmed comedy skits with my friends. So much learning and not a grade in sight!
So, if you find yourself giving up weekends and nights to grading (but also realize that those grades don't really help students to learn) then try cutting way back on how much you grade!