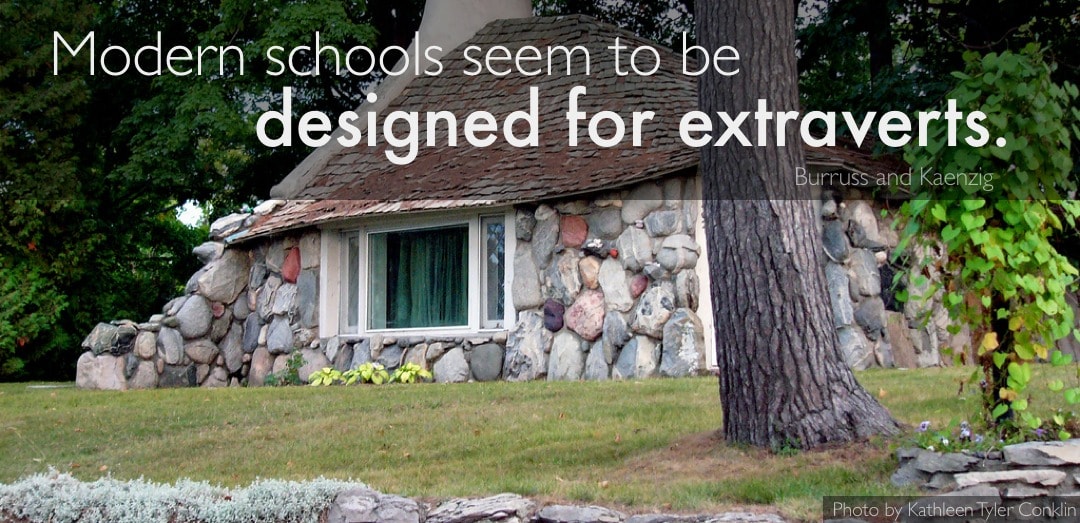 Photo by ktylerconk
As a teacher of gifted students, you will be in the unique situation of teaching classrooms with a majority of introverts, a population typically outnumbered by extraverts in general classrooms. Consider how you can set the stage to improve these students' learning, socializing, and happiness.
Design Your Day
Modern schools seem to be designed for extraverts. From the beginning of the day (especially if they have to ride the bus), the day is full of large groups and large areas, large classes, lunch in a common area, physical education in a large group and in a large gym, locker rooms, assemblies, homeroom, etc. Burruss and Kaenzig, Introversion: The Often Forgotten Factor Impacting the Gifted
Make your classroom a sanctuary from this stress.
Have your door open when students arrive You'll be amazed by how many students appreciate being indoors rather than standing around on the playground or the quad.
Have simple activities to encourage small group play or socialization Introverted students do not like to draw attention to themselves. This can inhibit socialization. Have chess boards, Uno cards, computers, Lego, or other activities set up to help ease the stress of initiating conversation. I also post a daily puzzle that many students enjoy thinking through together.
Give students an alternative to recess In surveys I've conducted, my students consistently note recess as a time they feel least safe at school. Many would prefer a semi–quiet place to sit and read, chit–chat, or play a board game. Can you set up a rotating schedule for teachers to open their classes during recess?
For some further insight into the way introverts think, read this discussion about introverted teachers.
Thinking Before Acting
Most introverts need wait time, warning about what they are expected to do, activities with minimal noise and stimulation, down time built into the schedule, and moderate amounts of small group work. Read more…
Pause Before Calling I ask questions twice, then pause, and then call on a student to answer. This gives people a chance to think a bit.
This: "What's an example of evaporation? [pause] What is an example of evaporation? [pause] Jim, what's an example of evaporation?"
Not This: "Jim! What's an example of evaporation!?"
If the student doesn't have an answer ready, I use Rick Morris' tactic of allowing students to say: "pass." I then skip them (doing my best not to give them a look or grunt disapprovingly) and return for an answer later.
Silent Reading I've written about it before, but I really value the ten minute after recess as a silent reading period. Turns out it also serves as some down time for your introverts.
Write Out A Schedule It amazes me how much my students love having the day's activities written on the whiteboard. They always complain after days with substitutes, since there was no schedule posted.
Calendar Upcoming Events Whether it's tests, due dates, or even spirit days, make sure you help students keep track of upcoming events. I keep a desk calendar on the classroom door and our student council provides planners for students. We use these religiously to track upcoming events.
Develop An Understanding For Personalities
Talk about your own personality needs: If you are an introvert, talk about how you deal with it. If you are an extravert, talk about your needs as your introverted child may not understand the difference. Read more…
Give a personality test I do an informal Myers–Briggs quiz in the beginning of the year to develop an understanding of personality types. We discuss how personalities are the root of many conflicts. You can grab that test right here.
Discuss personalities regularly As you read stories, discuss characters' personality types. Discuss characters that your students identify with as well as characters that rub them the wrong way. Develop an understanding that we truly have different ways of thinking and approaching problems.
Be aware of your personality According to this survey, the most common Myers–Briggs personality type for teachers is ESFJ:
The ESFJ teachers are exceptionally dependable, precise, critical of detail, hardworking, and expects others to be likewise. They have a deep respect for facts, and are particular about detail and routines. Read more…
However, we often have highly intuitive students who frequently:
skip steps (or work altogether)
simply "get it" without need for practice
go against routines or expectations
Naturally, this is going to conflict with many teachers' personalities. Don't try to change your kids (or yourself!). This natural intuition is highly valuable. Instead, understand where they're coming from and adapt your classroom to take advantage of their unique skills.
Consider this advice from Dr. Jane Piirto:
As teachers understand these differences between [student and teacher personalities], they can then begin to plan and implement the mode of instruction that will produce the highest results for each type's learning preference.
Differentiation information in your inbox.
I'll send you one or two emails a month to help you better understand and differentiate for gifted students. Get free resources now!