To students, creativity and math seem completely incompatible. "Math is when I have to follow predefined steps and arrive at an exact answer! How could this be creative?"
Here are three four ideas for quick math warmups that encourage students to use divergent, creative thinking to come up with unexpected, but correct, answers.
1. How Did We Get Here?
For our first creative math warmup, let's begin at the end and ask students to come up with multiple paths that could have led us there.
For example, write a big "17" on the board and ask your students "how could we get to 17?"
Some simple paths include:
These are great starting points but include some constraints, and kids will begin exploring even more creative ways to arrive at 17:
take three steps (10 + 3 + 4, 8 × 2 – 1)
use a decimal (34 × 0.5)
incorporate a square root (√81 × 2 – 1)
There are literally an infinite number of ways to arrive at this one number, and this task encourages students to use their different math tools. Start each day with a new number. Try fractions, decimals, and negative numbers.
2. Who Doesn't Belong?
A common math problem is to ask students to identify a pattern, given:
3, 6, 9, 12
But, using the same set of numbers, we can ask a different question: which number doesn't belong?
Of course, there is no "right" answer. Students might say:
12 is the only two-digit number
3 is the only prime
9 is the only perfect square
We can double 3 to get 6 and double 6 to get 12, but 9 doesn't fit this pattern
Again, students with more math tools will be able to come up with more reasons to rule out certain numbers.
3. What's the Question?
Inspired by Dan Meyer, show an intriguing image and ask kids "what question could we ask." Make sure to tell them they don't have to solve it, or they'll be afraid to ask any difficult questions!
For example, show this image of a packed stadium.
What question could we ask, even if we don't know how to answer it yet?
Possible questions include;
how many people are at the stadium
how much did people spend on tickets
how many hot dogs were sold at this game
An awesome source of these types of images is Dan's own 101QS.com, a site built around images with potential math applications.
4. Guess My Number
As a variation on "20 Questions," allow the class to ask a certain number of questions to determine the number that's "in your head."
Questions might include:
Is it odd or even?
Positive or negative?
Integer or non-integer?
Rational or irrational?
Greater than 10 or less than 10?
Of course, once they get the idea, students can choose their own numbers and work within groups to practice together, or make you guess their number.
Each of these warmups are quick and honor kids' naturally creative thinking which is so commonly shut down during math periods.
Premade Resources
Want some premade, creative math warmups? Here are my favorite resources:
Open Middle
Open Middle comes from my real-life pal Robert Kaplinsky (among others).
This order of operations example is a favorite of mine. Using the numbers 0-9 (only one time per number), make the largest number possible:
Head over to OpenMiddle.com to see a hint and the solution.
Visual Patterns
Fawn Nguyen (and company) have put together a delightful resource for noting and generalizing patterns called Visual Patterns. In each case, the first few iterations of a pattern are shown and then students must determine the 43rd iteration. Here's one example (from Matt Vaudrey):
How many seats would there be with 43 tables?
Hit up VisualPatterns.org to see the solution, as well as over 200 other patterns.
Which One Doesn't Belong?
Mary Bourassa (and friends) have created sets of 4 shapes, numbers, graphs, etc and poses the simple question: which one doesn't belong. Of course, the catch is that there are arguments for why each item doesn't belong. Here's one: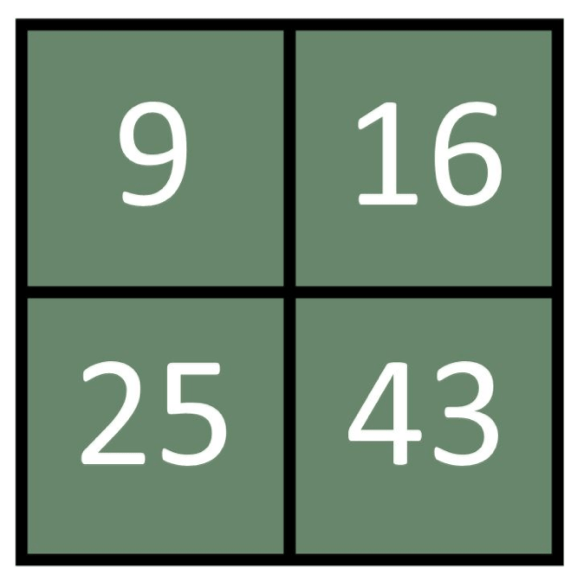 WODB.ca has versions appropriate for kindergarteners all the way up to high school students.
Would You Rather?
John Stevens shares situations that ask students to wonder which is better? Whether they're picking a credit card or deciding which circumstances lead to more money, kids have to justify their thinking with their math skills. Check out Would You Rather?
Differentiation information in your inbox.
I'll send you one or two emails a month to help you better understand and differentiate for gifted students.
Get free resources now!